"Minimally, and I mean at the very minimum, it takes 48 hours to restorer if we have to talk to Microsoft. I think the last one we did took about three weeks! So you can imagine the huge impact on clients' businesses to be missing data for even two days."

-Liam Broughton, Service Director // Avagio
Join us as we unveil how MSPs can increase margin and drive additional value to end clients by leveraging Microsoft 365 Backup as part of a layered security approach. We'll unveil key findings from our State of Microsoft 365 Backup Report including the top 5 reasons end-users purchased Microsoft 365 backup and how MSPs can build their sales and marketing strategy around these client needs.
Top 5 Reasons End-users Purchase Microsoft 365 Backup
Thursday, July 30th
12:00 - 1:00pm CDT
This webinar will cover: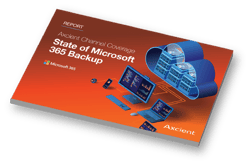 How to easily generate new revenue by adding Microsoft 365 backup to your stack
Strategies for increasing end-user adoption of Microsoft 365 backup through data-driven education and backup coverage waivers
PLUS all attendees will receive a free copy of the Axcient State of Microsoft 365 Backup Report